Home

Aljezur farmhouses for sale

Algarve west coast climate; the best weather in Europe?

Contact

Odeceixe beach

Control of the red palm weevil

Vicentina natural park wildlife

Heating options

The truth about coastal property

What is natural park Costa Vicentina?

Building and renovating in western Algarve

Portugal land scams

Fishing on the Vicentina coast

Western Algarve agriculture

AFPOP

Utilities in Portugal

Schools in Aljezur

Solar home heating plans
Solar heat start page

Solar heat control wiring

Here are a couple of very simple circuits I developed for controlling hot water flow in solar heating systems.

This circuit is to activate and control the primary circulation pump of the collector array.
It uses adjustable thermostats readily available [E11 each from Conrad electronics, or ask your plumbing supplier].
If the first switch detects the temperature at the top of the collector is over 70C, the pump is activated on its "high" setting. if the temperature is under 70, power is shunted to the next switch, set at 60, which would run the pump at medium speed. if the temperature is under 60, power is shunted to the low switch. if the temperature is under 50, the pump is off.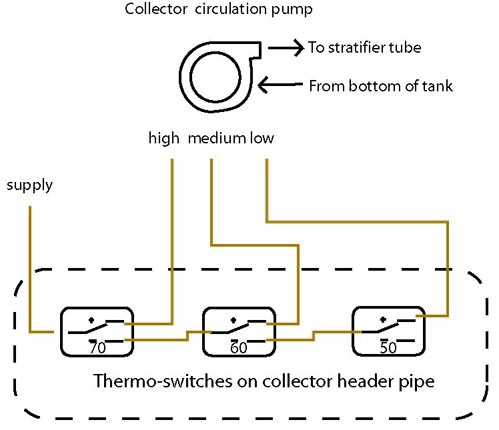 This circuit is to control which section of the stratified tank hot water is drawn from.
In this setup, each switch is set to the same temperature. Heat is drawn from the lowest point at which the temperature is high enough. So if your heating loop needs water at 60C, the hotter water above is held in reserve.
If a given section is too cool, the power is shunted to the switch above.
In this diagram, even the top valve closes if it's too cool; depending on your design, you might want to leave out the top switch and have the top valve open whenever the section below the top is too cool, even if the top of tank is also below your target temperature.
If you have big radiators or underfloor heating loops, probably you'll be able to run it at 50 or maybe even 40C. The lower you're able to set this temperature, the higher your efficiency will be.
There will need to be a second identical circuit for the domestic hot water [obviously that needs to run through a heat exchanger]. DHW will have to be 60 or 70C.
24VAC electric valves for irrigation systems sure are cheap; but I don't know if they'll hold up to the heat. Depending on the height of your tank, you could need 6 or more for heating and 6 for DHW.
The proper ones for heating systems cost 4 times more.
Return water from heating or DHW must enter the tank through a stratifier tube.